Most franchises we see or dine at, in Malaysia, we always think that it is made in America or probably another international country because sometimes we can't believe ourselves that it is so successful and so delicious, right? Well, don't be fooled! There are actually many cafes that are created by entrepreneurs in Malaysia, let's see!
1. Secret Recipe
We're pretty sure you thought this cake and fusion food cafe is made in America, all thanks to their super delicious cakes! Also, there are cakes that are named as "American brownies and New York Cheesecake" that might have confused you. But guess what? This cafe is made in Malaysia! It was launched in Malaysia in 1997 by Steven Sim, together with three of his nephew who were bakers. They have outlets internationally in countries such as Singapore, Philippines, Australia, Pakistan, and Cambodia as well.
Source: Central Park Official Site
2. The Manhattan Fish Market
Yes, your favorite fish and chips store is also made in Malaysia! It's amazing how it taste, which is as good as other international brands like Fish and Co. Don't be fooled, as it is not from Manhattan! This outlet serves lip-smacking American inspired seafood which follows the same concept as Fulton Fish Market at Fulton Street, Brooklyn, United States. This place was founded by George Ang, and his two other close friends, Dr. Jeffrey Goh and Dickson Low whom are Malaysian locals.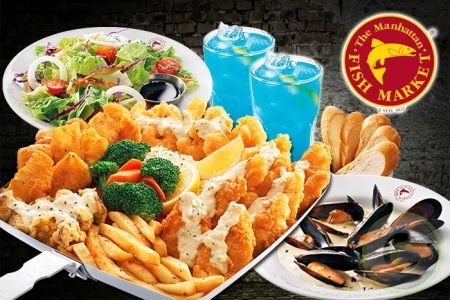 Source: Get Diskon
3. Sushi King
Who would have ever expected that a Japanese restaurant is founded in Malaysia? We are actually amazed, as we always thought that it was not local. But, this Japanese restaurant, Sushi King, was founded in 1995, and is known as the pioneer kaiten sushi and the first revolving sushi restaurant in Malaysia. Well, the founder is a Japanese who was based in Malaysia. Kudos to Sushi King, for having such great sushi!
Source: The Star Online
4. San Francisco Coffee
Not many people know about this, because many of you might have thought that this coffee joint is made in America, as the name itself says it all – "San Francisco." Well at least, we thought that it was similar to Starbucks, but you know,  just not as popular, but we're wrong! This coffee joint was founded in 1997, and is currently quite popular for their coffee, and is owned by a Malaysian company Lyndarahim Ventures Sdn. Bhd. The directors under this company is Datuk Abdul Rahim Zin, a former banker that went into business of making good coffee. This cafe is now opened in Malaysia and Singapore and has up to 23 outlets. Woah! 
Source: The Raykat Post
5. 1901 Hotdog
It's similar to an all American concept of hotdog roadside stalls. 1901 Hotdogs has rebranded their tagline from "A wholesome Authentic Bite to Food for Friendship." They have also changed their logo to a newer one few years back. They do sell amazing hotdogs that are fulfilling and satisfying, which actually is really good for a Malaysian local brand. Although it says 1901, but it was founded in 1997 by Zakir and Tengku Rozidar Tengku Zainol Abidin. The name 1901 is inspired by how the 'hot dog' story came about by a sports cartoonist named Tad Dorgan in 1901.
Source: Lowyat Forum
Who else is currently mindblown? Because we sure are, and we're so proud to be living with such successful food chains!