If you happen to be working in PJ, and you're a newbie around that area (just like how i used to be) you must be wondering where to eat cheap and affordable food to budget yourself daily, and places that are easy for you to look for cause' you're afraid you would lose your way around. There are actually many places around, it's just that when you're new and you're alone, you just end up spending your time packing food from home and eating it at the office. Also because eating in PJ can sometimes be expensive. NO WORRIES! You can now budget yourself everyday by visiting these few places:
1. Chan Home Recipe, Section 17
This place is the best, as they have 'chap fun' mix rice of a huge variety to choose from. The prices are super affordable and it ranges between RM5-RM8. You could order a plate of rice with 3-4 side dishes to go with it. The best part is, the drinks here are free and bottomless. You are able to choose between chinese tea or normal water for drinks and there would be soup provided as well, for free! Normally during lunch time, there would be a queue waiting for their turns, hence going there a little earlier would be a good option.
Location: Corner Lot, Section 17, Petaling Jaya, 46400, Malaysia
2. Frame Thai 
Also located in section 17, Frame Thai is an authentic Thai food place, that is known to be located in Happy Mansion. When I say authentic, I really mean the food is cooked by Thai people and it's superbly mouthwatering. They have street food such as sausages as well as main course dishes like pad thai, green curry, tomyam and much more. One of the best dishes there would be their fried rice. Prices varies on the food you order. However, due to the good food, most of the time it is packed, hence if you are in a hurry, it wouldn't be a good place for lunch as you need to queue for a place there.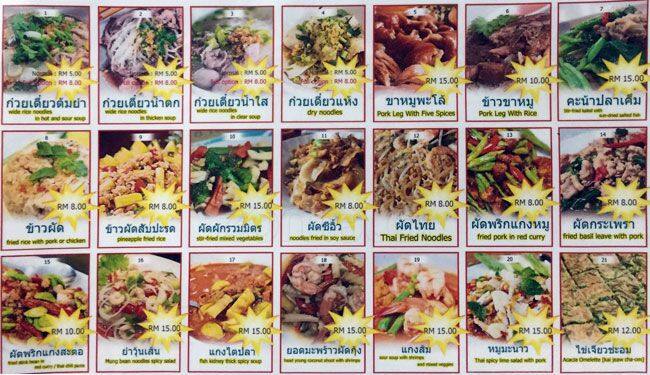 Location: AG-3, Jalan 17/13, Happy Mansions, 46400 Petaling Jaya, Selangor, Malaysia
3. O & S Restaurant 
If you are looking for a wide variety of food, this kopitiam is the best place to go to! It is known to be a Penang-style hawker fare, which sells prawn mee, curry laksa, pork noodles, chicken rice, char kuey teow and har gou chee cheong fun. However the best dish here would be the asam laksa  that is the bomb! It is complemented with thick broth, generous chunks of mackerel, cucumber strips and a spoonful of sweet shrimp paste. Right after lunch, don't forget to pack or try the 'goreng pisang' that is amazingly fried by an old uncle, it's as big as the size of a banana and so worth it, as it only cost RM1.50.
Location: No. 55, Jalan 21/12, Paramount Garden, 46300, Petaling Jaya, Selangor, 46300, Malaysia
4. Food trucks
Working nearby the Asia Jaya LRT? There is a stretch of food trucks and 'gerai's around that you could pack food from. If you're looking for mix rice, there is a row of 'gerai's located at the end of the road that sells chinese mix rice, malay mix rice and even indian mix rice. Prices are about RM5-RM8 as well. However, if you prefer taking away your food quickly, there are two really good food trucks you can look for which is the ayam kunyit food truck where rice is served with ayam kunyit and gravy that is super yummy for only RM5. There is also another food truck that sells fried chicken with briyani rice, which you can pick between nasi kukus, nasi briyani or nasi kerabu, each of these would be served with a packet of gravy, yums!
Address: N/A – Along the stretch of the road at Asia Jaya LRT ,there are stalls located during lunch time.
**Alternately you could make your way by wazing 'Asia Jaya LRT' or 'Menara Axis'
5. Acha Curry House 
Want to try some authentic indian cuisine for lunch? Head down here. This place has affordable banana leaf rice that normally ranges around RM13 for rice, side dishes such as fried chicken and their signature ikan bilis sambal. The extras such as the curry, vegetable, rasam and others is also included into that pricing. Sounds good right? It will definitely make your tummy satisfied!
Location: 271, Jalan 5/51, Bukit Gasing, 46000 Petaling Jaya, Selangor, Malaysia
6. Toast and Roast 
One of the best places ever to go for 'char siew'! The char siew meat is soft and tender and it literally feels like it melt's in your mouth everytime you bite it. For pork lovers out there, you are able to have one of the best lunches such as chicken rice, char siew rice, siew yok rice, but FYI the siew yok runs out really quickly and you need to be there early if you really want that. What's special here is that, this place is not just a typical chicken rice shop, but it also has their own signature hakka noodles that you can choose to be served with your favorite meat or a mix of both. Trust me, both their rice and noodles are really really good!
Location: No.20, Jalan SS2/72 47300 Petaling Jaya, Selangor, 47300, Malaysia
7. Restoran Paramount Garden 
Any pan mee lovers out there? This shop is dedicated to making really good pan mee. I know how many of you would always choose to go to pan mee places like Jojo's or Chilli Pan Mee, but this is just a normal kopitiam that sells a different type of pan mee. I mean a different a way of cooking it. As it's popular dish would be the loh pan mee, where you can have mix Pan Mee (Normal Pan Mee + Carrot Pan Mee + Spinach Pan Mee). We called it as Yin Yong Pan Mee. The noodles are green in color served with thick gravy that is rich in flavor. They also have the normal soup pan mee, as well as sizzling pan mee served in a hot plate. Prices range between RM4.50-RM10.
Location: 55, Jalan 21/12, Peramount Garden, 46300 Petaling Jaya. (Nearby Public Bank Sea Park)
So start planning your lunch plans with your colleagues now, since you have way more options to choose from now. YAY! Share with us more places as we love foooood!