All fit hiking lovers, we bet you've been looking for newer places to hike every once in awhile because obviously going to the same places can be extremely boring especially when you hike all the way up to see the same view. So here's a list of places you can try out for your next hiking trip:
1. Kiara Park
The level of difficulty to hike for this place is EASY. So I guess it's pretty good for amatuers like you and me that are new to hiking. Duration takes about an hour to 90 minutes to the tarmac and jungle trails. It is open everyday and this place is suitable for joggers, cyclists, mountain bikers and sometimes even horse riders. Bring your camera too as monkeys might make an appearance. It's free of charge, btw!
Source: The Star
2. Bukit Chenuang
This place has a really breathtaking view, which is totally worth it to visit for a hike. The level of difficulty would be around moderate to hard. But what's a hike without a challenge right?
Source: Meetup
3. Chiling Waterfall
What's even more better than to hike through waterfalls, you can not only hike, but you can also swim! And of course, enjoy a great view for an Instagram worthy picture. The level of difficulty of this place is moderate. So maybe amatuers can try too, but be sure to go with your friends and not alone. You don't want to get lost or stuck halfway. Stunning!
Source: the quantum singularity
4. Bukit Tabur
This hill is quite challenging but still it can be finished because if there's a will, there's a way right? It's quite common among the hikers which I'm pretty sure they have at least been to this place once. Make sure you wear the right shoes and clothes when you're hiking at a slightly challenging hill.
Source: Trover
5. Gunung Nuang
This mountain is located in Negeri Sembilan and it's pretty amazing! If you're looking for further places to head to besides Klang Valley, you can take a road trip to Negeri Sembilan for a hike and also to visit the state. The mountain is challenging, and can be quite tough for beginners. Maybe once you've practiced hiking a few times you can try going to this place.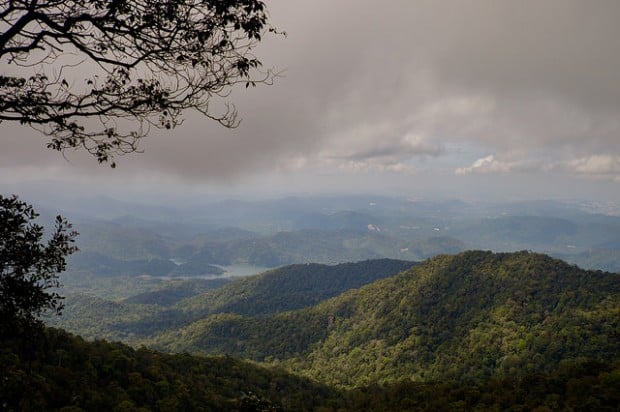 Source: TripZilla
6. Bukit Batu Putih
Also located in Negeri Sembilan, this place is fairly easy to be hiked. So everybody can actually experience it once in their lifetime. How about this weekend?
Source: World News
7. Panorama Hill
The view is breathtaking at this hill located in Pahang and you'll definitely love it. You literally can take a pano with your phone for the perfect Instagram picture. It's perfect when the sun is setting and it would also be a romantic place for a date, perhaps?
Source: Flickr.com
8. Maxwell Hill
The Maxwell Hill is located in Perak. If you're from the Klang Valley, you'll need to take a trip down to Perak for this hike. But on the brightside, after burning all that calories you can head down to Ipoh for some awesome food. The difficulty level for this hill is moderate.
Source: sutra.my
9. Gunung Liang
According to hikers, this place can be challenging and also very challenging so it depends on how high or far you want to go. Gunung Liang is also located in Perak. It's really beautiful if you manage to get up there!
Source: Panoramio
10. Bukit Keluang
This hill is located in Terengganu. So it's quite far from Klang Valley but worth the trip too! The difficulty level for this one is EASY. So yes, everybody needs to try. It's pretty amazing because you're able to see the beaches from far on top as well.
Source: razinruslan
Source: TripAdvisor
So get your hiking gears ready for a hiking trip. We're so excited and prepared to take on these beautiful mountains and hills. You should too! Share with us your experience if you've tried these places.