A Golden Retriever became viral on the net when it seek the help of police officers after it got separated from its owner while chasing rats at Guilin, China! How cute!??
Netizens swooned over the dog's uncanny human-like social skills and cute disposition.
According to StompSg, two police officers, Rong and Wong were on duty, sitting in their patrol vehicle near a toll booth on Guilin Highway.  It was when the smart and adorable dog suddenly approached them. The two policemen looked around but could not find its owner, then they realised that the poor dog must have lost its way.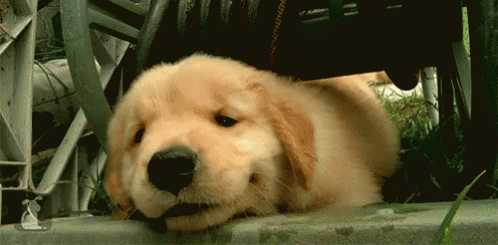 Concerned that citizens may be afraid of the large dog, they brought it to a police booth. There, they fed the dog food and drinks, before continuing their duty.  The dog calmly remained in the office until the duo returned at 8am.
Just when the two were about to leave in their patrol car to regroup with the rest of the unit,  the dog hopped onto their car. The innocent dog sat inside the police car while looking at the policemen with its puppy-dog eyes, seemingly desperately asking for their help to find its way back.
The two officers decided to help the dog find its way back to it owner.  They put up news about the lost dog and brought the dog back to a police station, which served as a temporal lodging. Eight hours later, the owner received news of his dog and rushed down to the station.
The dog and his owner were finally reunited!! YAYY!
As to why the dog knew who to seek help from, the owner explained that his dog was previously a trainee at the Nanning Police Dog Training Base for a short period. Hence, it trusted policemen, naturally driving it to seek help from the officers on duty.