Guys, we're pretty sure you are addicted to the song ever since it has been a hit and even became the first Spanish-language song to make a hit at No.1 of Billboard's Hot 100 in the US ever since "Macarena" in 1996. The song by Puerto Rican singer Luis Fonsi and Puerto Rican rapper Daddy Yankee that features Justin Bieber has been constantly played on all radio's around the world and everybody loves it!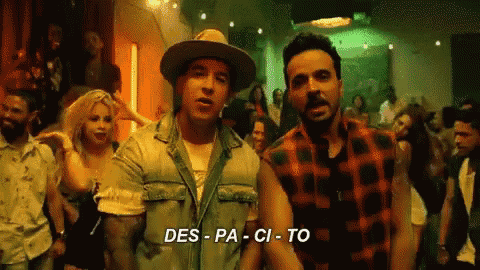 Source: Tenor GIF
However, sadly it's been banned in Malaysia effective today. Let us tell you why.
Just yesterday, the Angkatan Wanita Amanah Nasional (Awan) claimed that the song 'Despacito' has supposedly sexual explicit lyrics to it and wants it taken off our country's radio stations. Do you think this is absurd? 
Chairperson of Arts and Culture, voiced out her opinion about younger children singing the song without even actually understanding the lyrics. She also claimed that local Malay radio stations played the song too much that it has become a phenomenon that is hard to be stopped.
She said in a statement yesterday,
"I regret that these problematic songs are not censored by the ministries responsible." 
 Therefore, she hoped that Despacito and even other songs that are related to sexual and violent lyrics to be banned from playing too if it is not suited to the Eastern and Islam culture.
She then praised the artistes that actually tried to alter the lyrics to make it much decent even though it went against copyright rules. Atriza also hopes that local artistes will work together to provide content of entertainment that was morally good and also has high commercial value.
Lastly, Atriza said,
"We respect the right to be entertained but there should be clearer guidelines so that the entertainment does not spoil people but makes them better."
So Atriza's dreams did come true today, when RTM (Radio Televisyen Malaysia) decided to cease all broadcasting of the hit song in Malaysia, for both television and radio broadcasts immediately, said Communications and Multimedia Minister Datuk Seri Dr Salleh Said Keruak.
Source: The Star Online
"RTM is ceasing the broadcast of the song on its radio and TV stations with immediate effect." he said to Bernama. 
According to him, after they have re-evaluated and released the song, the evaluation panel again has decided to withdraw it.
There has been more than one quarter that has called for the song to be stopped due to it's obscene lyrics in Malaysia.
Many netizens were stunned and disappointed with this decision and some even supported it as they were really just bored of the song being replayed everyday. Most of them were just angry that Malaysian's are deemed to be easily influenced and treated as "dumb."
What do you think about this? Share with us! We're sure going to miss Despacito when we're stuck in traffic while listening to it on the radio.
Source: YouTube.com