An abrupt move by the Public Services Department to award full scholarships only to SPM students who get the A+ grade in all subjects taken, no matter how many, may have left many of them in a lurch.
The decision, announced recently on the department's Human Resource Development web portal called eSILA, is a departure from the original condition that full sponsorship be given as long as a student scored A+ in a minimum of nine subjects.
Describing the move as unfair and illogical, Seputeh MP Teresa Kok called on the Cabinet to direct the department to rescind the requirement.
"It is unfair as it was an abrupt last minute change for the 2016 SPM scorers who thought that their application will be subjected to the condition in the old programme," she said in a statement on Saturday.
"It is illogical as it now means that while a student who has scored all A+ in the 9 subjects taken is qualified for scholarship, another student who has taken 11 subjects but scored only 10 A+ will not be granted scholarship."
She said the new condition will also seriously impact the number of students taking up Tamil and Mandarin subjects in future examinations due to fears that their chances of obtaining the scholarship would be affected.
Kok, who is DAP vice-chairperson, also noted that the programme's name has been changed from Bursary Graduate Programme to National Sponsorship Programme.
"Where is the logic when a student with nine A+ (score) qualifies for scholarship while those who have taken more than nine subjects and have scored 10 or 11 or 12 A+ (score) are not qualified?"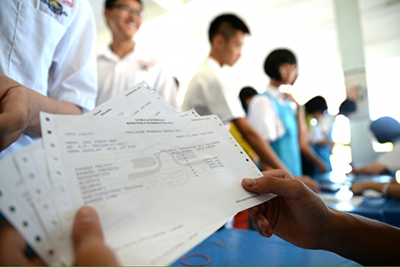 She said the Cabinet should intervene and direct the PSD to rescind the new condition and grant full sponsorship to students as long as a student achieves 9 A+ and above.
The latest SPM results for students who sat for the exams last year were released on Thursday. It was reported that there was a reduction in the number of candidates achieving straight A+, with only 102 getting full scores compared to 163 the year before.
It is not immediately known how many of these students took more than the minimum 9 subjects.