The Chinese smartphone industry has been booming during these past few years with Vivo and Oppo emerged as the biggest manufacturer in the Chinese market grabbed the spots from long time market leaders Huawei and Oppo. A report from Counterpoint Research revealed that from July to September Oppo and Vivo took 16.6% and 16.2% of the market share respectively.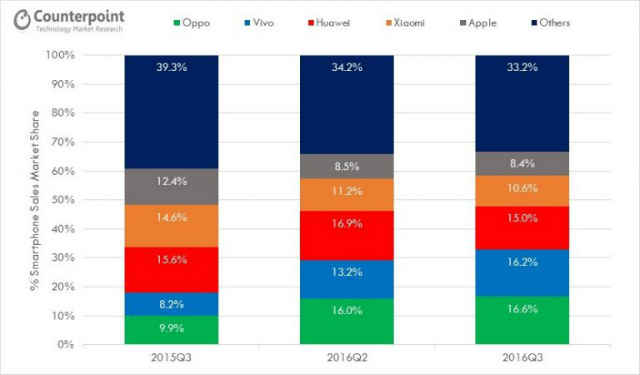 The report stated that Huawei is standing at third place at 15% with Xiaomi trailing at fourth place at 10.6%. Fifth is Apple with 8.4%. The third quarter of 2015 saw Vivo and Oppo account for 8.2 percent and 9.9 percent of the market respectively while Huawei's held 15.6 percent and Xiaomi's stood at 14.6 percent.
James Yan, research director, Counterpoint Research, observed that OPPO's smartphone shipments increased by 82 percent over the last year, this was partly driven by the strong response to the company's flagship device the OPPO R9. Counterpoint reported that the OPPO R9 beat Apple's iPhones when it came to sales in the third quarter of 2016. Vivo also saw its phone shipments grow 114 percent, thanks partly to a great demand for the company's X7 series coupled with Vivo's foray into offline retail.
"The focus on traditional offline retail and wider distribution network which still constitutes three-fourth of smartphone demand has been key to OPPO and Vivo success," stated Yan.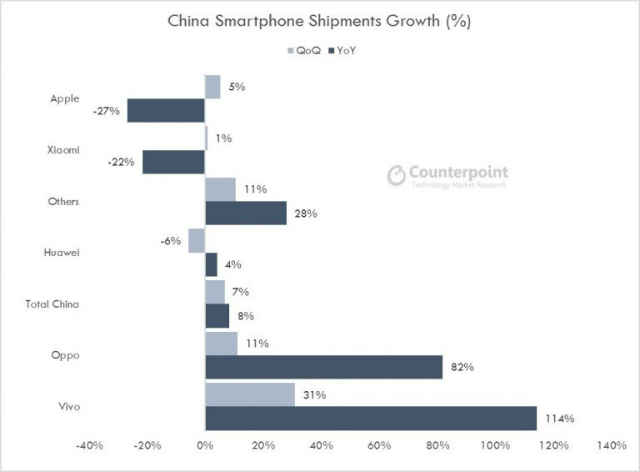 While OPPO and Vivo have grown from strength to strength, former market leader Huawei obtained only 4% rise in shipments in Q3 2016, though it managed to capture 15 percent of the market. Counterpoint Senior Analyst Mengmeng Zhang remarked that the upcoming launch of the Huawei Mate 9 could help aid the company regain some of the lost market share.
Xiaomi too witnessed slow growth in shipments with only 1% rise in Q3 2016. Zhang credited the lack of any offline retail presence as the reason behind the slowdown and remarked that Xiaomi's online only sales approach has reached its potential.
"Xiaomi needs a hero flagship device in premium to drive mindshare to compete with much more focused R&D and manufacturing driven brands such as Oppo, Vivo, Apple and Huawei. Also, lack of presence in offline space has been one of the determinants for Xiaomi's slowing growth as its e-commerce driven business model has hit a ceiling," he said.