TIME magazine just revealed list of leaders 'less popular' than United States (US) President Donald Trump. This would not be a proud moment for any national leader.
Unfortunately, TIME magazine has included our Prime Minister Najib Razak in a list of unpopular leaders. Also making the rogue's gallery of unpopular leaders were Nicolas Madura of Venezuela, South African President Jacob Zuma, Greek PM Alexis Tsipras, and Michel Temer of Brazil, who has only been in office for months, but already sees his approval ratings in the single digits.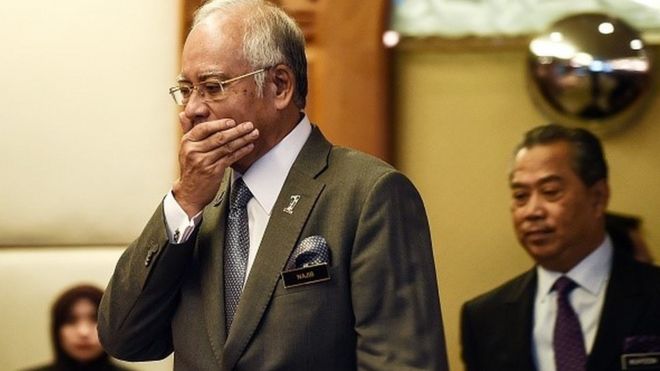 According to TIME magazine,
"If you're not going to be popular, you may as well be rich. Malaysia's Prime Minister Najib Razak has been in office since 2009, which is the same year he established an economic-development investment fund called 1Malaysia Development Berhad (1MDB). More than $1 billion ended up in Najib's personal account, which at a certain point he tried to pass off as a "gift" from the Saudi royal family. He was backed up by Malaysia's attorney general, who reported that the money constituted a legal donation, and that "most" of it was returned. Unsurprisingly, his current approval rating is at record lows.
But politically-speaking, Najib doesn't have much to worry about—he retains firm control of the United Malays National Organization (UMNO), the political party that has dominated Malaysian politics for nearly six decades. He has systematically sidelined opponents within the party, and his main adversaries outside the party have been jailed on what critics say are politicized charges. Who needs popularity when you have political power and money in the bank?"

The reasons for the top 5 naming? Our PM's lack of popularity as a result of the 1MDB scandal, which saw the investment development fund deposit suffer losses, whilst his personal bank account later grew by $1 billion. This was deemed a gift from the Saudi Royal family, a claim later backed by the Malaysian attorney general. At least by the second one, after the first was dismissed.
Time goes on to highlight that popularity will have little effect of the rule of law in Malaysia. This is something Free Malaysia Today reiterated as well: the UMNO (Najib's party) President and the ruling coalition, BN, are very much in control of their future, with a view to extending its 60-year rule in the next general election.
To read the full article published by TIME, click here.