14-year-old amateur Atthaya Thitikul has become the youngest known winner of a professional golf tour event with victory at the Ladies European Thailand Championship in Pattaya.
There were gasps from the crowd as the Thai teenager calmly slotted home a must-win final putt on the 18th to see off Ana Menendez of Mexico.
At 14 years, four months and 19 days, Atthaya broke the previous record of the formerly top-ranked Lydia Ko, who at 14 years and eight months won her first professional event at the New South Wales Open in 2012.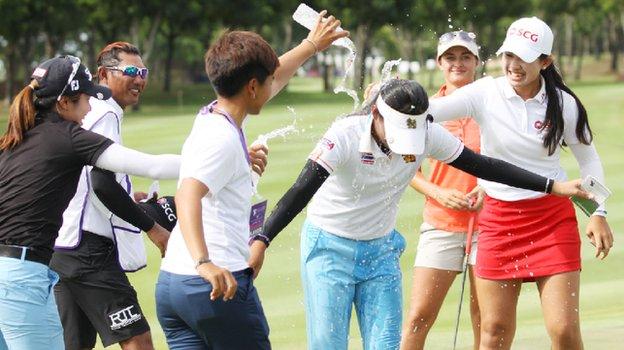 Atthaya, who hails from Thailand's western province of Rachaburi, turned 14 on 20 February. Local media said she first picked up a golf club aged six.
"I'm so happy for my win this week and feel so proud of myself. I give this win to all Thais."
The shy but seemingly always smiling teenager had a dream week at the 72-par Phoenix Gold Golf and Country Club in Pattaya. She burst into the first day with a two under 70, struck a 71 on day two and another 70 on day three.
She began the final day one shot behind Menendez, 25, facing the daunting task of keeping the finish line in sight.
The first nine she shot two bogeys and a birdie but was helped by a poor start from Menendez who fired four bogeys, giving the rising Thai star a cushion as the two went into the back nine.
If Atthaya felt pressure, she did not show it, firing another birdie on the back nine and calmly slotting home the final par putt.
"I was nervous at the first tee. But I didn't think about the scores. I just focused on my shots and only on my caddie. I didn't expect to win this tournament as I just came here to learn techniques from the pro players on the Ladies European."
Due to her amateur status, Athaya is not eligible for the 45,000 euros prize money (RM221,000). That means the prize went to runner up Menendez while 27,500 euros went to third placed pro Whitney Hillier.
(Source:Coconuts Bangkok )