It's something countless parents do every day to keep their children occupied while they work or get dinner put on the table: Give the child a tablet and let her watch familiar, parent-approved cartoons.
But as one mother documented on the website The Outline, parents also may need to be cautious about videos that, at first glance, they might think are safe, but are knockoffs of popular cartoon characters that can frighten their children.
One disturbing Peppa Pig fake, found by journalistLaura June, shows a dentist with a huge syringe pulling out the character's teeth as she screams in distress.
Mrs June only realised the violent nature of the video as her three-year-old daughter watched it beside her.
'Peppa does a lot of screaming and crying and the dentist is just a bit sadistic and it's just way, way off what a three-year-old should watch,' she said.
'But the animation is close enough to looking like Peppa – it's crude but it's close enough that my daughter was like "This is Peppa Pig."'
Another video depicted  Mickey Mouse gets his ears cut off, while Spiderman tries to take off the bikini of a female beach-goer.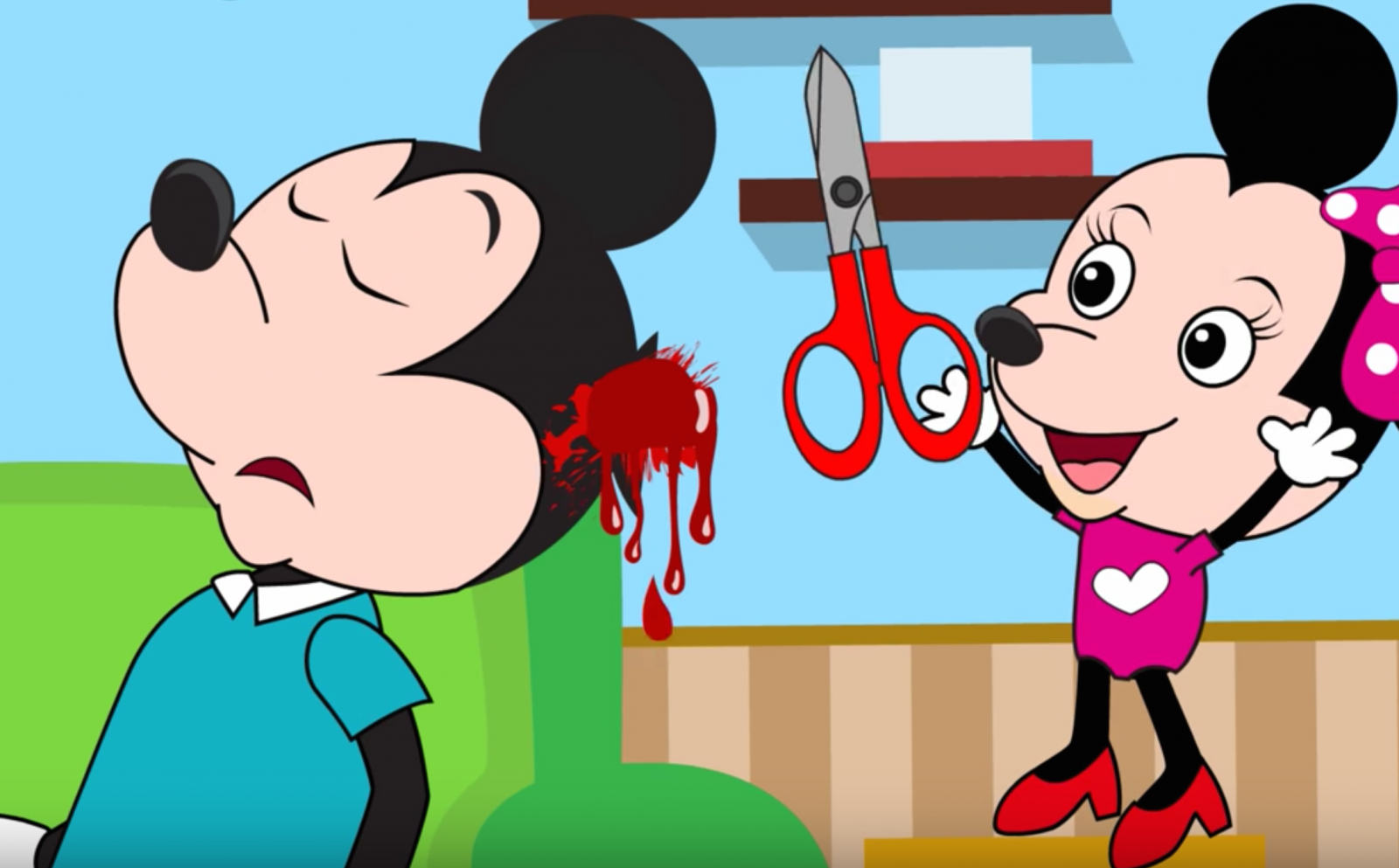 All of these videos are easily accessed by children through YouTube's search results or recommended videos. Some of the channels that run these cartoons generate millions of views from the disturbing videos.
One channel 'Toys and Funny Kids Surprise Eggs' is one of the 100 most popular videos on YouTube with over 5 billion video views total.
The channel's homepage includes a picture of a toddler next to pictures of Peppa Pig, Thomas the Tank Engine, the Cookie Monster, Mickey and Minnie Mouse and Elsa from Frozen that look official.
But the channel's videos include titled such as 'FROZEN ELSA HUGE SNOT', 'NAKED HULK LOSES HIS PANTS' and 'BLOODY ELSA: Frozen Elsa's Arm is Broken by Spiderman'. 
Since being contacted for comment, YouTube have taken down many of the videos found in the original investigation. YouTube suggested that parents use the "kids" version of its app and monitor what their kids are watching.
On the flip side, there were also several users who defended the videos, insisting that the content was clearly meant for adults.
"Obviously, the responsibility of what children watch lies with their parents, not the platform. Please be better parents," said one user.
Here's one of the disturbing video found on Youtube: