Yes, we know the weather is extremely hot in Malaysia, and most of us behind our car's dark tint to sheer away from the sun. It can be a problem especially when the sun is shining brightly right in front of your face, and your window has no tint. But all those dark tints has got to go, or else you'll be facing a fine of RM300 by JPJ when you're caught with it.
Starting 1st August 2018, vehicles on the road must comply with the automative heat-blocking window film tint that is based on the Malaysia Standard MS2669. If you're one of those with thick and dark car tinting, it's time you get it removed.
Source: bintulu.org
If you do not meet the specifications of the new ruling, you will need to replace it with standard film or else face consequences of a fine of RM300.
JPJ will also be running various testing devices at motor vehicle accessories shops around. Datuk Seri Liow Tiong Lai, Transport Minister had stated that a QR safety code label for heat -blocking film must be used by industry operators, suppliers or even retailers and the label must be installed for every vehicle screen and window. This would help confirm that the window tint meets the requirements of the new ruling.
Liow said,
"Sometimes, not only consumers have been duped but also the accessory shop operators by the suppliers. But with this system, all levels can check whether the film is genuine or fake."
This new QR code will be expected available before mid-November and can be used to scan via the "Tin Trac" app from Play Store and App Store. Woah, sounds like JPJ is really serious about it this time!
But anyways, you're suppose to abide to the standard ruling of minimum permissible visible light transmission (VLT) levels of only 70% for front windscreen, 50% for the front side windows and 30% for all the other windows (rear side windows and rear screen).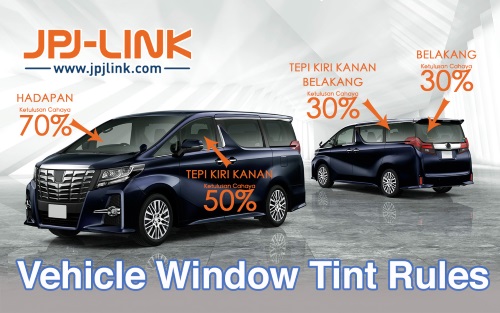 Source: JPJ Link
We're pretty sure there are cars that have tinting of all side windows of up to 70-90%. It's time you get it changed before you get fine!